We are in the midst of show season. Which, in the middle of summer, means keeping ears, whiskers, and feathers trimmed. It's important to have good quality clippers on hand to keep up with all the grooming.  When I'm showing, I like to have a set of clippers that are uncomplicated for quick touch-ups, and can also handle bigger jobs like clipping legs. Recently, I tried the Wahl Creativa Clippers, which sell for $179.99.
There are several reasons why I like the Wahl Creativa Clippers for show season.
cordless
lightweight/ easy to hold
75 minutes run time
5 in 1 blade
I also like that it's a complete package, coming with 2 lithium batteries, carrying case, and battery charger. For me, having cordless clippers has been a lifesaver. It's made show prep ten times easier. I never have to worry about finding an outlet and getting tangled in a cord at shows. I can use it easily in any grooming area and show venue when needed.  The clippers are curved to help you see the blade and lightweight to keep your wrists and hands from being tired.  This design is really different and it does make them a lot easier to hold and maneuver over my horse.   They also stayed a lot cooler than other clippers have in my hand during use, so that makes it easier for me, and easier for my horse.
This set of clippers has a 5 -1 blade that easily adjusts to your preferred length. I've never had clippers with an adjustable blade but it makes everything so much faster.  Instead of keeping track of multiple sets of blades, I can just adjust and keep clipping, which is so much faster and easier.  It's ideal for ears, muzzles, bridle paths, and even that hard to reach behind the elbow area. You could also use it for body clipping and legs as needed!
These clippers are a must-have when it comes to keeping your horses ready for the show ring. With its cordless feature, you'll never need to worry about an outlet again. I also really like the cute carrying case it comes in.  It's really helpful to have a good way to keep everything organized when I'm showing.  I would definitely recommend the Wahl Creativa Clippers as a terrific set of clippers for use at home or on the road.
Do you have any products you'd like to recommend? Reach out to us at Top Line Media Team!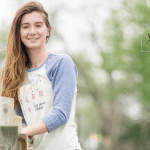 Jordan Even, of Westphalian Dreamer, is a 23-year-old equestrian lifestyle blogger and correspondent for Top Line Media Team. She currently enrolled in college working towards a marketing degree while trying to balance work, school, my horses, and her blog.