For many, horses become a passion at a very young age. We don't know what exactly spurs it, but it seems to run very deep into equestrians veins. Maybe it's how they were raised or what they were exposed to. Better yet, maybe it's ingrained into their souls. Whatever the reason, once the horse bug bites, there is no looking back. This was very much the case for Kathleen Bobbio. Bobbio's story for becoming the Regional Director for the US Equine Rescue League of Richmond, Virginia, started as volunteer. Here she learned how the league was run and began to learn what running and growing an equine nonprofit looked like. Bobbio already had an extensive equestrian background as a former Preliminary Eventer, an H-A Graduate of US Pony Club, and former rider/ performer for the internationally renown World Famous Lipizzaners.
"The U.S. Equine Rescue League began in 1997. It was one of the first horse rescuing operations of its time and it began to have a global take over. In college I moved to Richmond, Virginia, and was looking for a way to volunteer with horses. I started by delivering hay and helping to feed the horses. I didn't know much about the organization or how it was run at the top but I was exposed to the mission. In March 2017, I was offered the position of Regional Director with the hope to improve and maintain the nonprofits mission," Bobbio said.
USERL's (United States Equine Rescue League) goal is to rescue horses from neglectful homes, rehabilitate them, and then find them loving forever homes. With this mission in mind Bobbio knew she was going to have to utilize modern marketing techniques to help bring awareness as well as support for the organization. Her first hurdle was making sure she knew who her audience was.
"I didn't know who my audience was when I first took over the organization. Rescue horses really aren't everyone's cup of tea, they are very much for a niche set of people. Finding out who our audience was for the horses and making sure that I was connecting with the right people was a challenge. My struggle was finding out who the right people were and where to get the right help. Horse people are very tough crowd. Sometimes it's hard to change someone's perception to get them to see things differently," Bobbio said.
Bobbio knew one of the most active platforms in the equestrian community is Facebook. When technology has been slow to take hold in the horse world, Facebook engagement has been the opposite.
"Facebook is huge platform for us. We still have people coming out of the woodwork through Facebook. People are constantly interested in horses and they begin looking for them through social media. This platform really helps us to spread the word. It has been an awesome open form of communication that has been crucial for our image. Word of mouth is also very helpful. We hear people's stories and their experiences and find out how we can help them and the horses," Bobbio said.
Surprising enough the platform PetFinder has also been a crucial tool Bobbio has discovered to help the rescue. Many people looking to adopt troubled horses will use this outlet to find their equine partner. Bobbio said it has just been as helpful as Facebook.
USERL is a business to consumer nonprofit. With almost 100% of finances going to horse feed, vet and farrier, donations are heavily relied on to keep the rescue functioning. Managing goals, funds and missions are Bobbio's responsibility for the rescue.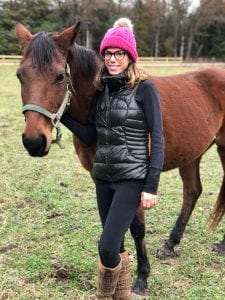 "Creating goals and assessing inventory has been done through monthly meetings with our core members. We have yearly goals and our goal is to follow our mission statement. We learn and learn as we go. I use an excel sheet I made up to track everything. We save receipts and make sure that everything is accounted for at the end of the year when we have to talk to our main parent association," Bobbio said.
Bobbio came from several careers before ending up running the USERL. Through her past experiences and challenges, she has been better able to handle the curveballs that have been thrown her way while running this nonprofit.
"One of the best pieces of advice I can give someone who is wanting to start their own business is to have thick skin and integrity. Go in knowing you won't make everyone happy. Make sure you live with integrity and live with your values and you will be ok. Be grounded in your beliefs and it will help you sleep at night," Bobbio said.
A core group of people who are trustworthy and grit bearing also can make a world of difference. Because the USERL is solely run off of donations, all employees are volunteers.
"We have ten or so core people who really rise to the occasion. They are constantly evolving and helping us grow . Without them we would have a hard time existing.  Facebook groups, both public and private, have helped our organization and others network with each other. We network to find homes for horses if we get overstocked, help each other with transportation, share resources (castration grants, vaccinations, etc.) or whatever else comes up. Basically, support groups for VA equine rescues and sanctuaries. We then use Constant Contact to manage these volunteer lists which helps keep people in the loop. We have the mentality once a volunteer always a volunteer," Bobbio said.
Constant Contact is an online marketing company that helps businesses manage marketing campaigns like email newsletters, surveys, events, FB promotions and more.  Keeping everything organized and running efficiently is no easy task, but thanks to different marketing strategies and help from previous careers, Bobbio has been able to grow and help make a difference with the rescue league. The progress may be a day at the time, but it is happening.
"Running this organization has been much like a marriage. I'm committed. For better or for worse. Everyday I put work into it. There's no coasting through. Some days are hard. But there are some days where I can see the bigger picture, and I see what a wonder it all is. Days that I'm truly grateful to be a part of this larger movement that recognizes the sentience of our non-human counterparts. The horses are our common denominator within the League. I'm the one lucky enough to steer our cause forward, every day, a bit at a time," Bobbio said.
Running a non profit is no easy feat, and doing so on behalf of the welfare of equines is a strong motivator. With the goal to empower owners to strive for better care of their animals, and bringing awareness to the surrounding community, USERL has taken on business strategies for the modern age.
Learn more about USERL by visiting them on their website, www.USERLRVA.com and Facebook page.
Are you interested in marketing your equine non-profit? Top Line Media Team can help! Contact us! 
Ashley Culpepper graduated with a degree in Print Journalism and Two Minors in Ad / PR from Liberty University in 2013. Since then she has actively been using her media skills in a variety of realms including the horse world. Ashley is a major equestrian enthusiast with over 18 years of riding and training under her belt. When she isn't working, Ashley loves to be at the barn with her AQHA gelding Bandit who she fox hunts and shows.