The thoroughbred horse is one of the most well-known horse breeds in the world. Known for its stamina, speed, agility, and athleticism, there's a reason why they are known to partake in "the most exciting two minutes in sports".  Unfortunately for many racehorses, they don't all get a chance to stand in the winner's circle with a moment of glory. For some, racing didn't really fit their personality or others end up suffering from an injury that takes them off the racetrack for good. Luckily, there are thoroughbred rescues like Thoroughbred Athletes in Guthrie, OK who give these majestic horses a second chance to start anew. Their motto is "Respecting their past, while preparing for their future". Their goal is to rehabilitate, retrain and re-home these horses so they have a chance to start a second better life.
From Trainer to Advocate
Lynn Sullivan began the nonprofit after working as a professional racehorse trainer. After putting quite a few unsuccessful racers on the market that had favorable traits, she accumulated a great network of people who enjoyed buying Off-The-Track-Thoroughbreds (OTTB's) from her.
"Word of mouth really helped spread the word of the nonprofit as well as the support from the racing community. We used to be the first and only thoroughbred training facility in Oklahoma. In 2012, we were the only facility. There was a big need for these horses to have a second vocation. We were the first to have the option open for them to be seen to have another career," Sullivan said.
With sometimes close to 30 horses at her facility at one time, Sullivan operates with mostly volunteers to keep the OTTB rescue running. So far, the rescue has re-homed over 241 horses since the rescue's start in 2011.
Learning to Run an OTTB Rescue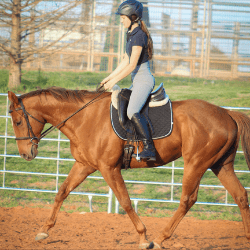 When Sullivan began the equine non-profit, she said it was a learning curve to build a business plan, as well as to make sure her message about racehorses was being perceived appropriately.
"The biggest challenge was educating people. Thoroughbreds coming off the track have a bad reputation usually. They are known for being hot and always wanting to go. It was easy for me to teach these horses not to be racehorses because I taught them how to be racehorses. You can be the best horse person in the world and if someone hands you a thoroughbred right off the track your first impression isn't going to be super favorable," Sullivan said.
With the help of social media, word spread about Thoroughbred Athletes and their positive impact on the equines of the local racing community. Horses from all over the country have been donated to this rescue because of the good they have done for horses.
"We put the progress updates and videos of how horses are doing and which ones are in training at the rescue. Social media is actually my only form of marketing that I have really invested in for the organization. Our Facebook has over 9K followers and is growing. It's a better place for people to see what we are up to as our website isn't updated as regularly as we would like," Sullivan said.
Fundraising Fit for OTTB's
Social media has helped Sullivan and her team advocate for ex-racehorses and show the world that these horses are really capable of anything. Sullivan started a fundraising horse show that allows special classes for retrained racehorses.
"I decided to host my own horse show.  We opened the classes to retired racehorses. I had friends that donated a rodeo arena and we borrowed some jumps. It was an extremely successful endeavor and it ended up bringing attention to quite a few breeders in Oklahoma. Our horse show is the biggest fundraiser we do every year for the rescue. We try to make it so people who adopt a thoroughbred can participate, so it is beginner-friendly. Our target competitors are for people who are ready to discover how versatile their new thoroughbred is. We have all disciplines including western and it's a really wonderful chance to see what all these horses are truly capable of," Sullivan said. The show, called The Sport of Kings Challenge Series, has dates in April, October, and November.
Transparency is Key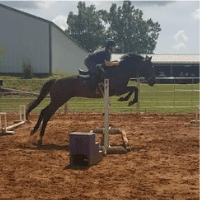 Sullivan has said another goal of their rescue is to be transparent as possible with their efforts as a nonprofit. Making sure donors knew their money was going to real horses with real needs was imperative to communicate.  Unfortunately, unscrupulous organizations and people have just as much access to social media; there are plenty of fake animal rescues who end up doing more harm than good for the industry.
"Funding was one of the biggest setbacks when I was building this non-profit, especially in a world where there are a lot of fake rescues. We try to be very transparent. We are on Guide Star so people can check up on a nonprofit and see if they actually do what they say they will do. There are so many fake rescues that are all over Facebook that advertise a horse that is in need and to raise money for when in actuality the horse doesn't even exist. Guide Star helps show who is legit and who isn't, which we find is really important," Sullivan said.
Helping People as well as Horses
Thoroughbred Athletes hopes to continue to re-home amazing racehorses and transfer them to wonderful loving homes. The OTTB rescue also prides itself on allowing at-risk youth to help volunteer with the organization and learn how to help rehab and care for the horses. The connections that are made with kids that come from unfortunate circumstances and rescue thoroughbreds tend to bring out some of the sweetest stories and moments that help remind Sullivan why they do what they do.
"The kids that volunteer help through the process of desensitization, chores and other tasks around the farm. I ended up taking them to a lot of shows where they could help me show off the horses that have been restarted for potential adopters. The idea to work with at-risk youth was my idea because I wish there had been a program like that for me when I was young. It would have helped me stay out of trouble as a kid," Sullivan said.
Thoroughbred Athletes has also helped save over 50 horses from abuse, kill pens, and neglect. They are also accredited by the Thoroughbred Aftercare Alliance.  You can find them online at thoroughbred-athletes.com and on Facebook. You can donate to support them through their website, or through the Amazon Smile program, which will donate 0.5% of the purchase price of eligible products to the charitable organization of your choice.
Do you need help marketing your OTTB Rescue or equine non-profit?  Contact Top Line Media Team today!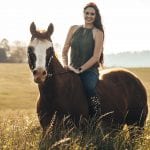 Ashley Culpepper graduated with a degree in Print Journalism and Two Minors in Ad / PR from Liberty University in 2013. Since then she has actively been using her media skills in a variety of realms including the horse world. Ashley is a major equestrian enthusiast with over 18 years of riding and training under her belt. When she isn't working, Ashley loves to be at the barn with her AQHA gelding Bandit who she fox hunts and shows.