Jean Abernethy is planning an escape.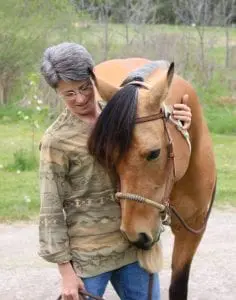 Actually, she is planning her 7th escape. Every summer since moving back to Canada from Atlanta 7 years ago, Jean looks forward to taking a 1-2 month break from being a full-time artist, to be a trail guide on a horse ranch, 5 hours away from home.  She works all day with the crew and her little half-Arab, Willow, and stays in a cabin on the property. However, she does ensure that she has internet access because even during her annual escape, she has responsibilities which she takes seriously.  She won't abandon Fergus the Horse, or his fans, and so she dutifully and graciously keeps up no matter where she is.
Jean loves working at South Algonquin Trails, riding, getting sore and dirty and tired enough to collapse.  She loves the complete immersion with the horses, and with the people as well.  She points out that as an artist, 99% of the work takes place in utter solitude.  So, all of Jean's interactions with people are precious to her. This is why, if you are so fortunate as to meet her at a bookstore, tack shop, or equine event, you can count on a thoroughly enjoyable conversation with her.  Jean is a person who appreciates the quirks of people, as well as horses, and is a keen observer of the world around her. Though it may seem like she has led a charmed life, Jean's success is a direct result of this positive, open attitude, untethered creativity, and a driving work ethic.
Fergus the Horse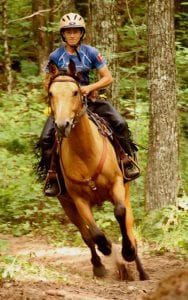 Chances are, if you are a horse lover and you have ever been on the internet, or love children's books, you have encountered Fergus.  He made his first appearance around the year 2000 and gained massive popularity in 2012 when Fergus and Jean made their way onto Facebook. Within three years, Fergus the Horse had over 300 thousand loyal followers.  Jean doesn't mind if people enjoy and share Fergus across social media- that's the point, after all. As with any art, just keep the image unchanged. If you're unsure if an image is authentic, drop Jean a message or email.  She is delightfully easy to reach and loves to work with people. Which is how we were able to learn Jean, and Fergus's, story.
Jean the Child
Jean grew up in Ontario, Canada, on a farm. She and her siblings had many responsibilities- working in the garden, tending to pigs, sheep, chickens and cows, helping with firewood,  hay and harvest, and maintaining the farm. According to Jean, "we worked like beasts, but we sure did have fun." From an early age, she loved horses, as well as drawing pictures, and it wasn't long before she was producing horse art on a regular basis, experimenting with styles and techniques.  
Jean came from an artistic family, where the skills of working together and building what you need were the norm.  Her father was a farmer and carpenter, and her mother sewed and made quilts. Music was also a part of daily life for the family.  Each of them sang and played instruments- even performing as a family band for a few years (with Jean on the mandolin and drums)! Jean also loved to make things out of leather with a kit she had- like small pouches and coin purses. At one point, her parents took a trip out west and happened to encounter a master saddle maker, talking him into selling them a Western saddle tree and some pre-cut pieces of leather for their daughter. The dexterous teen promptly taught herself to make saddles, a hobby she still enjoys today, riding in her very own handiwork.
Jean the Wife & Mother
After high school, Jean went to Humber College for Equestrian Studies and then earned her art degree a OCAD University in Toronto.  After college, she married a fellow "farm kid" and had two sons. Jean and her husband moved as a result of her husband's job, to the suburbs of Atlanta, Georgia to raise their sons.  Though they were no longer farm kids, they took the family to the farm in Ontario every summer where they learned to appreciate animals, building things, and the satisfaction of a hard day's work.  It has paid off, as her sons, now grown men, have established careers as an engineer and personal trainer.
Jean the Artist

Throughout her time in Atlanta, Jean was steadily working as an illustrator.  Often just through referrals and word of mouth, she would create illustrations for equine magazines and books.  She not only creates cartoon horses but also technical drawings and sketches for educational purposes. Although animal images are certainly her specialty, they weren't always horse-centric; she also drew portraits of people or natural scenes regularly.  The horses, at that time, were not of one character. They were different breeds, colors, and styles- whatever design was most appropriate for the publication with which she was working. Jean ruminated over the possibility of someday creating some kind of book of her work but didn't know how to go about it, or when there would be time.  Perhaps someday.
A turning point came around 1998 when Jean connected with the horseman Monty Roberts.  He was writing an equine training book and needed an illustrator who understood horses.  Two years later, Roberts published From My Hands to Yours, complete with 140 illustrations by Jean. This development really propelled her work forward, introducing her to a wide array of new clients.  One of these was a quarterly magazine, "Join Up Journal," in which Fergus made his first appearance. There was a recurring feature outlining training methods, and Fergus (named after Jean's paternal grandfather, Ferguson), became the star.  "He is fictitious, but based on every horse I've ever known."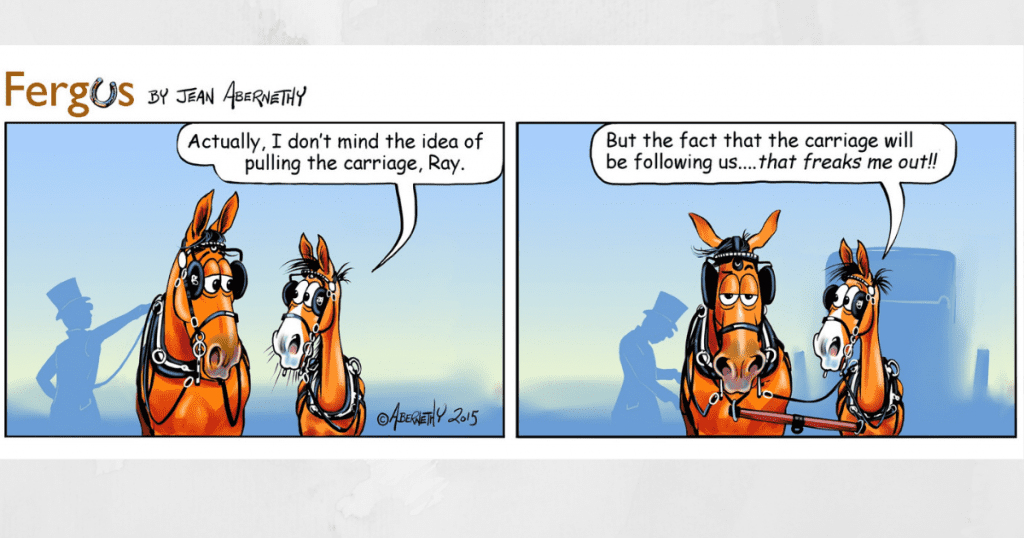 From there, requests for more Fergus came readily, and he appeared in other publications, coloring books, newspapers,  and products. In 2012, Jean began to learn new tricks to use with Fergus, putting away her art supplies and learning to use computer drawing software to create her illustrations digitally.  She came to really enjoy the shift. She found that, at times, working with a computer could be more satisfying and controllable than "the spontaneity of pen to paper." It was also 2012 when Jean, with the help of her sons, created a presence for Fergus on Facebook.  From there, hundreds of thousands of people all over the world came to know and love Fergus the Horse.
Jean the Marketing Whiz


As the popularity of Fergus grew, Jean thought that maybe it could be the time to approach a publisher about a book. She already had a body of work and plenty of ideas.  She knew what publishers interested her, she put together a prospectus, and sent it out, and hoped for a response.
Just four hours later, Trafalgar Square Books, her top choice, emailed her back.  Jean was pleased to find the process of working on the book with the group to be smooth and unproblematic.  They were supportive of her vision, and all the feedback the team offered was constructive, insightful, and logical.
Now Jean has published four books, "The Essential Fergus (Trafalgar Square Books, 2015)," "Fergus, a Horse to be Reckoned With (Trafalgar Square Books, 2016)," "Fergus and the Greener Grass (Trafalgar Square Books, 2017)," and "Fergus and the Night Before Christmas (Trafalgar Square Books, 2017)."  Currently, she is at work on a fifth, which will be released in 2020.
Fergus has also had a line of products with Red Bubble, and Jean travels to horse shows and expositions like Equine Affair and the Quarter Horse Congress to connect with fans.  She attends book-readings and signing sessions at book stores and tack shops. "I also visit schools and read my books to the children and give them drawing demonstrations.  There is also a constant feeding of Fergus humor through social media (Facebook, Instagram, Pinterest). "Since the release of Fergus and The Night Before Christmas, I have even attended book readings with Santa Claus."
Jean has found that using the internet has been a tremendous benefit to her career. Even so, it sometimes means she must be vigilant to protect her intellectual property. Jean advises that it's important to be very active and responsive to social media as well as to email. Also, to be supportive and collaborative with those who love Fergus.  It's a community, and all of us who love horses, regardless of discipline, can connect over the humor and humanity in Fergus.
Jean the Horse Lover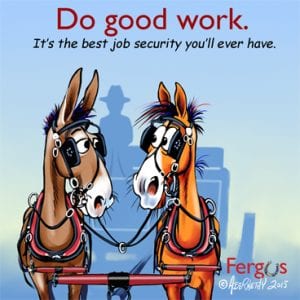 Jean theorizes that Fergus is so resonant in the horse community "because he emerges from an equestrian.  "I've been working with horses hands-on for most of my life, and very familiar with their behavior. I think it's also because I don't try to make Fergus do human things.  I let him be a horse." She has overcome many challenges with Fergus- learning to use new technology, learning to market her work, and learning to have the self-confidence, even the faith that one's ideas will be successful.  She says that "for the artist who spends so much time in solitude, the Gremlin of Self-Doubt can be a terrible beast."
But the rewards have come, in earning a living from doing what she truly loves, from progressing in skill, and from sharing the love- and hilarity- of horses with others.  "When grandparents tell me how their little ones love to have them read Fergus books at bedtime, that warms my heart enormously. When someone comments on a comic across social media "Thanks for the laugh. That made my day!"  That's hugely rewarding."
Find Fergus the Horse on his website, Facebook, and Instagram.  Jean Abernethy has a site here, and find her publisher at Trafalgar Square Books,
What other equestrian business owners do you find inspiring?  Let us know at Top Line Media Team!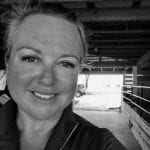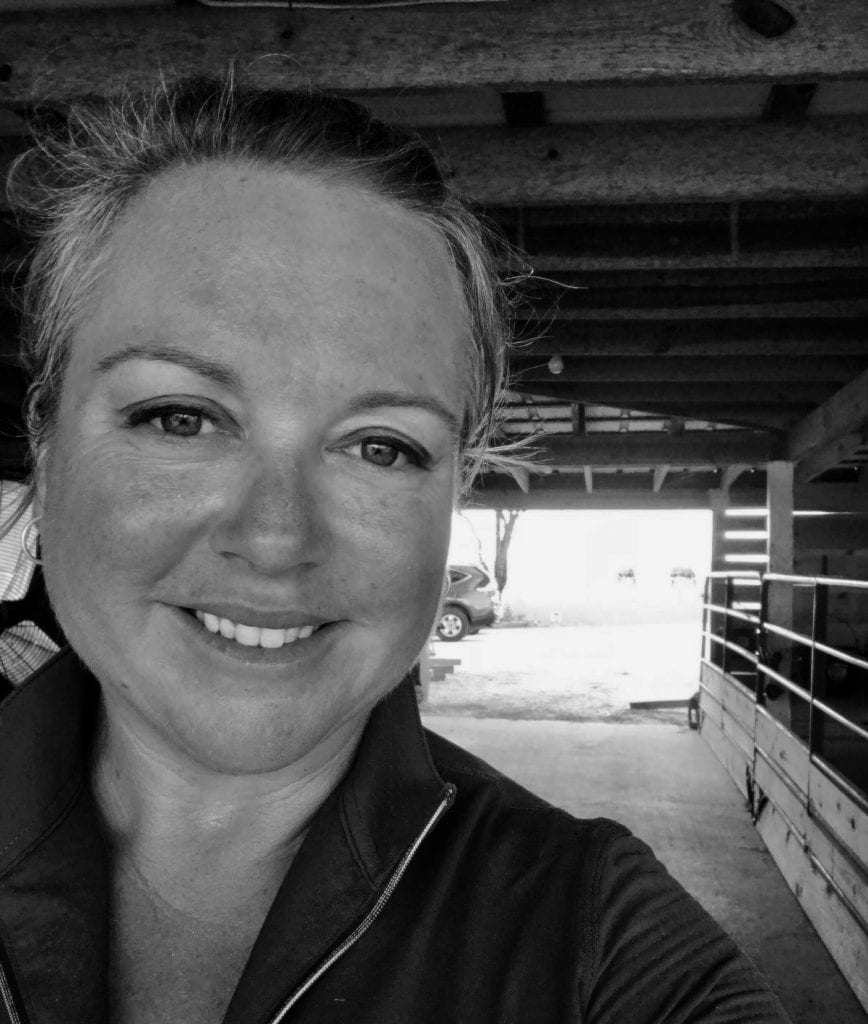 Jenn Crow has been a lifelong barn rat, and a hunter/jumper professional for 20 years with a passion for teaching and operations, from lesson programs to IEA Teams, to shows such as WEF, Harrisburg, and Washington.