A picture is worth a thousand words, or so the saying goes. Capturing monumental moments, especially in an equestrian's career is a highlight that riders never tend to forget. The perfect jump, piaffe, or cross-country finish are feelings and memories that riders will keep safely locked away as minutes from their own personal "hall of fame". Equine Photography is an art that conveys a lot of emotion, something the photographers at High Time Photography take seriously.
Meet Christie & John Snyder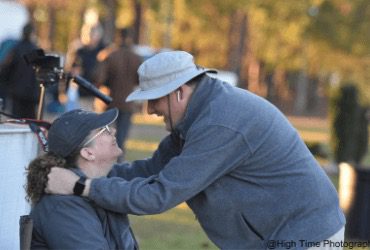 Christie and John Snyder began High Time Photography as a way to capture equestrians finest show moments. The company started 10 years ago when Christie's horse named "High Time" became un-showable which left Christie outside of the arena for the first time in her life. She began taking photos of horses at shows and found her new calling. After encouragement from professional riders and other photographers, High Time was born. Now shooting over 40 shows a year, the Synder's have become one of the best in the business. They are commonly seen at the Carolina Horse Park, NCDCTA Shows, Rosinburg Events, and Triangle Farms.
Equine Photography Success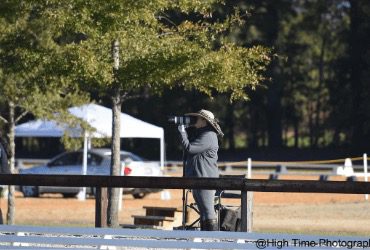 With specialties in jumping, cross country and dressage, the Snyder's have helped build a small empire that has allowed other amateur photographers to get a chance at photography in the horse world. With shooting over 300 horses at the Carolina horse park, having help and teaching future generations has become essential to their business.
"We have some shows with over 300 contenders. We had one photographer who started with us at 15-16 years and now lives in Kentucky as a track photographer. She actually got so good that she was one of the photographers who took the triple crown photos last year," John said.
Focus on Quality Photos
The Snyders focus on having a seamless equine photography business model where their work simply speaks for itself.
"We have over a dozen different people who work for us and our goal is to have all of our work as seamless as possible. Our clients shouldn't know the difference in who took the photos because they all need to be exceptional. Whether it's me, Christie, or another shooter we have a standard to uphold in the business," John said.
Dressage Speciality
One of their biggest show specialties is their unique and precision-based approach to dressage photos. Surprisingly, it is one of the hardest disciplines to photograph well.
"People think the jumping photos are hard, but it's the dressage riders who are the hardest to photograph. Getting the jump photos are a standard point and shoot, but for dressage, we focus on getting the correct angles and movements. We even go as far as being picky about which hooves are in the air for the shot," John said.
Utilizing Technology
With shooting at major circuit shows, the number of pictures taken can be easily over 25,000. High Time is known for its quick service in getting pictures up fast and accurately. The Snyder's also utilize e-mail listings at shows to make sure that customers are aware that their photos are ready for preview.
"We use this awesome tool called Smug Mug. It's an online platform designed for photographers. We've been able to build a site off of this and we have unlimited storage for our photos. We also have the ability to sell pictures directly from the site. It's great because we can look back on our sales history from the past 10 years. We have never had to take a photo down from our site so customers can constantly see our work over the years," John said.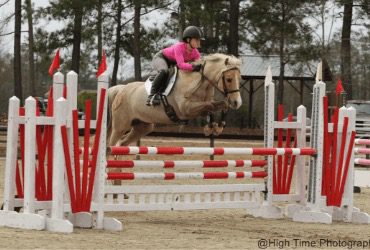 They also said the evolution of social media has helped their business as well. Being able to immediately show highlights from a weekend show keeps the energy moving from the highs of a show weekend. Their favorite thing is to share their favorite photos, events, and fundraising opportunities that they plan to be a part of.
"As an equine photography business, especially for horse shows, participants want to see their photos almost immediately. They are living off of those high moments from the show and usually want to savor that memory. Our upload time is usually within 24 hours. We have learned that if your photos aren't up, you are less likely to make a sale," John said.
A Family Adventure
B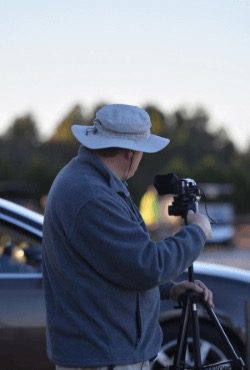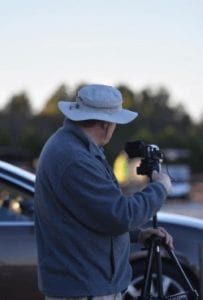 eing a wife and husband business team has strengthened the couple who has been married for over 27 years. John decided to get involved with the business because it exploded so quickly. His take is that it has been one of their best adventures to date.
"We work amazing together and best of all we really love each other. A lot of people can't work well together, and we work fantastic together. Every day we appreciate all the things we do and get to do. We work hard and play hard. We are a solid team with the same goals," John said.
When asked about how to make big goals and dreams like this happen, the Snyder's commented that it doesn't happen without a deep grind and hard work.
"You can't just make this (business) happen. It has to come naturally, and you have to work its way through. We've spent many grueling hours and working multiple jobs to make this possible for us. You have to enjoy this with a passion, or you have to get out, there's not middle," John said.
The Rewards of Witnessing Growth
Along with having the joys of traveling to shows and seeing top competitors, the Snyders have had the awesome opportunity to watch their clientele grow. Many riders start at the pony club level and are able to move up throughout the years into high show circuits, including the Junior Olympics.
"It has really been a joy watching these contenders grow in their sport. We will sometimes have parents and family members of riders who have been buying our photos for years and years. We get to watch these riders grow up and sometimes get to capture one of the best times of their life," John Said.
High Time equine photography's photos can be seen on Facebook page as well as their website at hightimephotos.com. You can learn more about their pricing, future shows and schedule for the upcoming months.
If you have an equine business you'd like to tell us about, contact us at Top Line Media Team!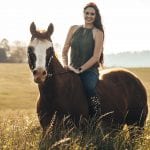 Ashley Culpepper graduated with a degree in Print Journalism and Two Minors in Ad / PR from Liberty University in 2013. Since then she has actively been using her media skills in a variety of realms including the horse world. Ashley is a major equestrian enthusiast with over 18 years of riding and training under her belt. When she isn't working, Ashley loves to be at the barn with her AQHA gelding Bandit who she fox hunts and shows.