When I was living on the Gulf Coast of Texas, I had the wonderful opportunity to work with a talented woman named Katie Durio, a Licensed Master Social Worker. She had recently retired from 29 years from the Jefferson County Juvenile Probation Department. Katie started out working with the Runaway and Truant cases and eventually became Supervisor over the Runaway and Truant Officers as well as Volunteer Coordinator for the Department. She then was promoted to Casework Supervisor, overseeing all the probation officers. Her final position with the Department was the Assistant Director of Probation Services, where she was the Supervisor over all the Probation Officers and over the Detention Center. In addition to her career in Mental Health, she was a lifelong horse enthusiast.
Stable-Spirit
When she retired, she joined up with Kimberly Mendoza of Alvin, TX and Kathie Yates of Friendswood, TX who founded a nonprofit organization called Stable-Spirit. The mission of Stable-Spirit is to provide the community with opportunities that inspire positive mental, physical, and emotional health through professionally guided interaction with horses. In March 2004, Kimberly and Kathy founded Stable-Spirit with the idea of creating a win-win solution that would restore balance, harmony, and well-being to people experiencing mental and emotional pain by bringing them together with horses healing from similar experiences.
Stable-Spirit began operating in Alvin, Texas with the mission to serve individuals using equine assisted modalities to promote positive mental health and development. In April 2007, Stable-Spirit moved its operations to Jefferson County and Katie took over the role of Executive Director.  In November 2010, the nonprofit moved its operations to Orange County and began providing services in the Golden Triangle area.  They follow the E.A.G.A.L.A. model which is an acronym for Equine Assisted Growth and Learning Association, an international training for Mental Health Professionals and Equine Specialists in the utilization of horses for mental and emotional health for individuals.
I had the chance to catch up with Katie and asked her some questions about what things, in particular, stood out in regards to the marketing and growth of Stable-Spirit.
Erinn: What are some of the most effective fundraisers you've had and what have you found makes them effective?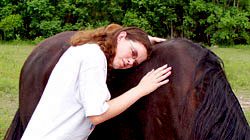 Katie: BBQ Cook-offs, Alaskan Nights, Facebook OnLine appeals, 100×100.  Effective is having good Committee Members, hard work, and locating sponsorships.  The recent Facebook OnLine appeals have garnered a very good return on minimal physical labor.  The 100×100 was an End of the Year Appeal that utilized the idea of getting 100 people to each raise $100, which would garner $10,000, again, with minimal physical labor. The BBQ Cook-offs and the Alaskan Night events both require a lot of preplanning, along with a lot of volunteers the day of the events.
Erinn: Did you know anything about writing grants before you started? How did you learn about the process?
Katie: I had assisted with writing a couple of grants when I was at the Probation Department, but virtually knew nothing about grant writing.   In the first couple of years as Executive Director, I hired a lady to write 3 grants for me. Although I learned a lot from this endeavor, because she did not know anything about Stable-Spirit, I had to provide her with all the information.  We were not awarded any of the grants that she wrote. After that experience, I realized that I needed to write the grants because I had all the info about Stable-Spirit. I joined the Nonprofit Development Center of Southeast Texas, which is an organization that provides grant writing workshops, as well as assists with connecting the nonprofits to the grantors that match their need.  This is the best $100 per year that Stable-Spirit has ever invested in. I remain a member and am awarded many grants from the connections and workshops I am able to attend with them.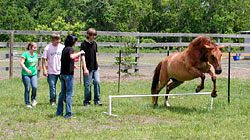 Erinn: What are some marketing initiatives you took to help give Stable-Spirit more awareness in the community?
Katie: Stable-Spirit developed an informational brochure about the services and these are given out throughout the community at health fairs and other venues where Stable-Spirit is able to set up an informational booth.  We also utilize volunteers, so recruiting volunteers through the local University has been very helpful. Then the best one is word of mouth from clients and volunteers.
Erinn: What are some foundational initiatives you took to help Stable-Spirit get a clearer vision of who it was to the community?
Katie: Having a good Board Members and Advisory Committee Members who are supportive and knowledgeable is a must.  The Associates met periodically and shared ideas about what was working and what needed improvements, which allowed us to grow and provide additional services.  But we always kept in mind, that we needed to be sure that what we were doing was being done very well before we added new services.
Erinn: Do you feel that social media or email marketing has a positive effect on your growth?
Katie: Social Media and Email marketing have a very positive effect on the growth of Stable-Spirit.  That format allows us to reach people in other areas of the country, who support us. It also allows other programs to know about us and find ways to partner with them to serve the clients better.
Erinn: How did you define, find and start networking with your target audience?
Katie: I first utilized my previous work connections to get Mental Health Therapists to know about Stable-Spirit, by doing demonstrations of the work with them.  Then we started doing speeches at local Civic Organizations, as well as information booths at the local health fairs through the schools. Then we found and joined the Nonprofit Development Center of Southeast Texas.  I also looked for other nonprofits who were serving the target audience and began partnering with them.
Erinn: What qualities do you think are required in a successful leader?
Katie: A Successful Leader needs to listen to others but stay the course.  Be kind and gentle with others, but don't let them push your buttons. Honesty, Morals, Ethics, Commitment, Competence – show up every day, keep improving, follow through with excellence, accomplish more than expected.  Courage, Generosity, Passion, Positive Attitude, and Servanthood.
Erinn: What advice would you give someone just starting their nonprofit organization or for someone who seems to have a lull in their growth?
Katie: If there is a Nonprofit Development Center in their area, definitely join and utilize all that they offer.  Be willing to do all the work, if no one else shows up. For those who have a lull in their growth, ask your current clients what else they need from you, then see if there is a way to add one small improvement to your program.
Erinn: What is a book that you would recommend?
Katie: Move Closer, Stay Longer by Dr. Stephanie Burns.  It's about not letting fear keep you from getting what you want, doing what you want, & going where you want to go.
Like any business or nonprofit, Stable-Spirit started out with a handful of clients and has grown into serving 582 in 2018. Programs include Equine Experiential Development, Equine Assisted Psychotherapy, Equine Comfort Care and Equine Assisted Development as well as Hippotherapy and Therapeutic Riding.  Effectively utilizing platforms like Constant Contact or Facebook as marketing tools is an important step toward reaching your target audience as well as having print materials to hand to people.   Katie Durio does a great job leading the team by being out there at the barn every day, participating in client sessions, guiding volunteers, and leading promotional events or campaigns. She demonstrates a type of leadership and focus that serves the Stable-Spirit mission and her community very well.
For more information about Stable-Spirit, please visit their website Stable-Spirit.org.   If your organization needs support with online marketing or web development, contact us!