I have a beautiful palomino mare – think of the horses you'd see in movies and on t.v. like the fabulous Trigger ridden by Roy Rogers. She's that caliber of breeding and beauty. She has a luxurious white mane that reaches down past her neck – and she LOVES to rub it off. Argh!
Between braiding it up and using conditioner that is much too expensive to use on myself, I've found that nothing keeps her mane from breaking off when she decides she wants to stick her head through the fence to graze on the non-existent grass that's on the coveted "other side". Nothing worked… until I tested out the stretchy hood that I originally purchased for another horse who figured out how to get his ears through the eyeholes so he couldn't see. Wish I had gotten a photo of that one for you.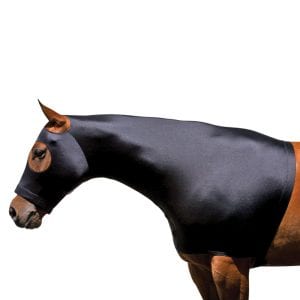 Anyway, back to the review. I pulled this gem out of the tack room, braided Blondie's mane up (yes, that's her nickname), and popped it on her. As an ex-barrel horse, Blondie has a bit of nervous energy going on all the time, and the first thing I noticed when I put this on her was the change in her demeanor – she was calm! Perhaps the stretchy fabric felt like a hug, much like a thunder blanket or thunderjacket for a pup would work. Secondly, she could rub her mane on the fence all she wanted and couldn't manage to get the hood off OR pull her mane out. Win win!
I highly recommend using this if you have the same issues – I purchased mine at sstack.com but nearly every equine company carries them in various colors.
Here's to happy horses and mane that will actually grow!
Interested in having your product reviewed? Contact us!