Social media is an important tool to be using for your online presence. It helps get your business name, brand and what you stand for out to your clients. Yet, social media will only work if you are using it right.
Just posting on your platform of choice will not do. You need to have a strategy for proper execution. Having a team doing this for you is your best option, but knowing the basics will help you in the long run. You need to have thoughtful, engaging content and correct image sizes.
In our research, we found that the equine industry prefers Facebook and Instagram. If you do not change your image sizes according to each social platform your image will run into issues like awkward cropping or blurry pixelation. Having your images looking crisp and clean will show your clients the quality of your content, which helps develop your brand with these clients.
---
Instagram image sizes
Square Image:
1080px in width by 1080px in height
Vertical Image:
1080px in width by 1350px in height
Horizontal Image:
1080px in width by 566px in height
Profile photo sizes:
Your profile photo will be cropped as a circle, 110 pixels in diameter. By keeping your company logo in the center of the image, this will help to avoid any of it being cropped out.
Thumbnail sizes:
Your photos appear on your profile in a grid layout, at 161 x 161 pixels.
Even if you upload a landscape photo, it will still appear as a center-cropped square (meaning don't leave important info or visuals close to the edges of the photo).
Instagram keeps the photo at its original resolution as long as the photo's aspect ratio is between 1.91:1 and 4:5. If you share an aspect ratio that isn't supported, your final product will be cropped to fit a supported ratio. If you share a lower resolution it will be enlarged to fit a width of 320 pixels.
Ad sizes:
Ads in feed sizes:
Square ads should be a minimum of 600 x 600 pixels and a maximum of 1936 x 1936 pixels.
Landscape ads should be a minimum of 600 x 315 pixels and a maximum of 1936 x 1936 pixels.
Vertical ads should be a minimum of 600 x 750 pixels and maximum 1936 x 1936 pixels.
Ads in Stories sizes:
Vertical photo (and video) ads should be dimensions of 1080 x 1920 pixels and maximum image size is 30MB.
Facebook image sizes
Profile photo sizes:
The profile photo for your Page will be cropped as a square, and display at 170 x 170 pixels on desktop and 128 x 128 pixels on smartphones. To avoid compression upload image as 720 x720 pixels or 960 x 960 pixels.
Cover photo sizes:
On desktop, your Page's cover photo displays as 820 x 312 pixels, and 640 x 360 pixels on smartphones.
At a minimum, your cover photo must be at least 399 x 150 pixels.
Timeline photo sizes:
The recommended size for photos shared on your Page is 1,200 x 630 pixels.
Event cover photo sizes:
When you create an event on Facebook, you have the option of adding a cover photo. Facebook recommends that you upload a photo that is 1200 x 628 pixels.
Ad sizes:
Facebook has a complex advertising offering, so check out all the specs, sizes, and guidelines in their Adverts Guide()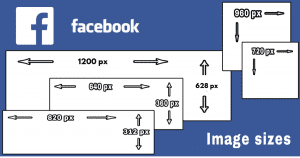 ---