Just around the turn of spring, my family and I eagerly waited in line to get our tickets to the Virginia Horse Festival at The Meadow in Doswell, VA. I was excited to see so many equestrian businesses there! There were in fact 103 vendors this year. Veterinarians, barn builders, lots of equine gift shops, and of course horse trainers were abound at Secretariats birthplace.
I love equestrian businesses and the behind the scenes people who run them. And, I want to watch all of them succeed because ultimately that means our horses succeed as well. So, below are a few of the equestrian businesses and organizations who left favorable impressions on me that you should know about!
6 Equestrian Businesses that Rocked the Virginia Horse Festival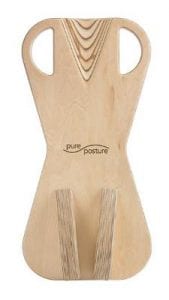 My husband and I both tried Pure Posture. I usually have weekly chronic headaches and neck pain. Since I've used this product once, my headaches have subsided and my neck pain went away. They took before and after pictures of my husband, and you could see the difference in his posture. He was standing up straighter and taller!
In order to use it, you lie down on the board daily for a total of seven minutes. The board has two supportive risers that fit along the sides of your spine. Each minute you slide up the board as the risers begin to release the stress and tension in the vertebrae. It only takes a few minutes a day to use and the benefits are amazing! Check them out!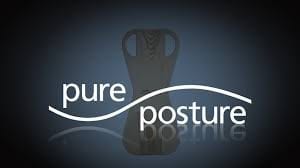 ---
Are you looking for a great horse camp for your kids? Camp Friendship is a sleep-away camp is located in the foothills of the Blue Ridge Mountains, surrounded by the river, rolling hills and woods. Give your kids the gift of unplugging and connect them to nature and horses!
Founded in 1966, Camp Friendship Equestrian Center is a Hunter/Jumper facility located in Central Virginia. They offer a residential camp for children ages 7-16 for all riding levels. Sessions include daily riding lessons, cross country trails and even riding their wonderful ponies in the river.
Camp Friendship is all about making friends, increasing self esteem and learning to work as a team. Not to mention the FUN that comes out of it. With a large selection of horses, each child will get his or her very own during their stay. Friendship Camp also has other activities as well for the not so horsey camper, like kayaking, archery, swimming, arts/crafts, tennis, basketball, mountain biking, fishing, gymnastics, drama, pottery so much more.
Check out all the different programs they have!

---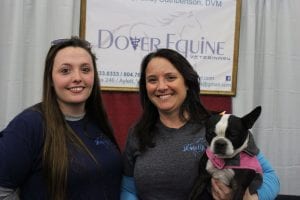 The first business I met was Dr. Callie Cuthbertson, DVM,  Grace Simpson and Nitro from Dover Equine Veterinary.  Nitro is the Project Manager at the clinic, and keeps everyone on their toes.
They are located out of Aylett, Virginia and their work area includes, The Middle Peninsula and Northern Neck – including the counties of Hanover, Caroline, New Kent, King William, King & Queen, Essex, Richmond, Middlesex, Lancaster, Northumberland, Westmoreland and parts of King George and Gloucester. Dr. Callie is a highly sought after horse vet, who cares for her clients' horses as her own. Dover Equine Veterinary provides Digital Radiography, Ultrasonography, Power Dentistry and General Wellness programs.

---
Did you know that if you missed out on Pony Club as a child, you can still obtain certifications as an adult? Pony Club offers programs in dressage, eventing, show jumping, mounted games, tetrathlon, knowledge, hunt seat equitation, western and polocrosse. Their focus is for members to learn about horse care in general including feeding, veterinary care and shoeing. Members graduate through the levels and some ride at national and international levels.
You don't have to own a horse to be in Pony Club! The networking among members allows for leasing or using one of the horses at a Pony Club Riding Center. Pictured below is Dawn Bellinger who volunteers as a Vice Regional Supervisor (VRS) for the Virginia Region Pony Clubs.  Dawn is also on the Board of Governors of the United States Pony Clubs.
Visit their Clubs & Centers page  to see if there's a club or center near you.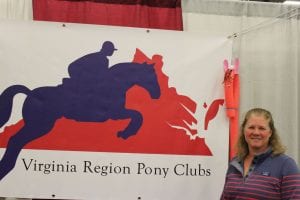 ---
What a necessary lesson for equestrians! Whether you're a professional rider or only riding occasionally, one of the very first things you should learn is how to fall off. Many trainers will struggle with how to teach these techniques effectively, but LandSafe has the answers. They provide a training program designed to teach the best practices of fall prevention and response. Owners, Keli and Danny Warrington have professional backgrounds in gymnastics and 3 day eventing, respectively.
LandSafe Equestrian has 3 main goals: to save lives, reduce injuries and increase the safety education of parents and riders. In the event of a potential fall, the human brain only has a split second to think about how to best position the body for protection. LandSafe Equestrian assists with the creation of the riders' muscle memory to help them instinctively know protect themselves.
Clinics include 2 days of instructional training that starts with gymnastics and finishes with the horse simulator. Kelli and Danny go into depth covering the various situations that would create a fall. The instruction and practice is provided on rotational falls and exit strategies riders can use. Check LandSafe out!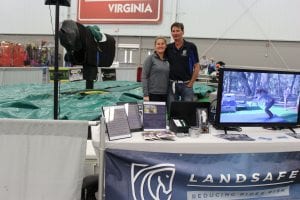 ---
All I can say is WOW! These barns are beyond explanation. All you have to do is take a look at a few of the amenities to see what I'm taking about. You know that saying about how some horses live better than their humans? Well, this is how it happens. King Barns has an amazing portfolio of professional, functional and luxury style horse barns. They provide a wide range of facilities for all types of equine disciplines, whether it be for one horse or farms that manage stock.
Their portfolio includes custom horse barns of all sizes, indoor arenas, timber frames, living quarters, outbuildings, custom doors, and components.  They are a family owned business, that began with three brothers who were in construction.  Much of their success has come from referrals from happy customers, and I can see why! Check out Kingbarns.com website!