We keep stressing how important it is to pay attention to your SEO (aka search engine optimization) strategy. It's usually a work in progress and you have to continuously keep at it, especially in the ever-evolving world of equine businesses. So, why may it not be working for your even though you put time into it? Here are a few thoughts on what to do now to see improvement.
Improve the content on your website. It's true that the more you update your site, the more improvement you'll see in regard to Google rankings. Make sure your content is written for humans, not machines (stop it with the keyword tricks, they're not working anymore). The more interesting your site is, the more people will spend time on it and the better your ranking will be.
Try to lower your bounce rate. What's bounce rate, you ask? It's when people are visiting just one page on your site and then clicking right off without taking any further action. Not cool. Give people incentive to click through to another page on your site with added links and images.
Use social media wisely! Add links back to your website so people have reason to read more about who you are and what you do. Post engaging images and content to encourage people to subscribe to your blog or simply continue reading an article. Also, be sure to include links to your social media pages on your website.
Overall, content is king in this case. Of course, there are more technical ways to ensure your SEO is working for you, including staying up to date with the latest Google algorithms, but the tips above can be implemented easily and immediately. If you need help creating an SEO plan that works for your equine business, contact the pros at Top Line Media Team today! We can even help you figure out those algorithms!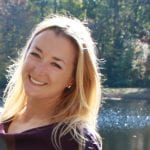 Daina Behe holds a Master of Science degree in Integrated Marketing Communications from West Virginia University as well as a certificate in User Experience Design, and is well versed in many areas of digital marketing and design. Having been involved in the horse industry for years, she specializes in equine marketing as it brings her passions together. While not working behind a computer, you can find her training her Moriesian horse in the Western Dressage discipline, or teaching riding lessons to young equestrians.