Pati Pierucci has been involved in the horse world for as long as she can remember, and she has been able to develop a prestigious career as both a rider and trainer. Pati, who rides and trains at FEI level, has earned several victories at Grand Prix level. Most notably, she was long listed for the U.S. Olympic Selection Trials in the year 2000. Patti has worked with top dressage trainers including Betsy Steiner, Martin Schaudt and Christine Trauig. Currently, she trains with Kathy Connelly and Robert Dover, and continues to compete on the top level dressage circuit.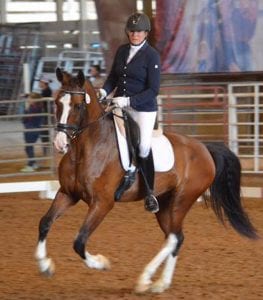 Pati has also earned her USDF Bronze, Silver and Gold Medals as well as a 5 Star Centerline Score rating. She focuses on bringing young horses along and building a relationship through horse and rider using a positive approach. Ever since she was around 10 years old, she's been seriously involved in the horse world. Being born in Kentucky exposed her to horses, and her older sister also had the 'bug'.
Currently, Pati owns and operates Pierucci Dressage along with her daughter Hannah. "Hannah's been riding since she was about four years old," Pati said. "She's always been incredibly independent and was able to be in the barn all the time. Initially, because I was working in training, riding and competing heavily in Florida for other people, I honestly didn't have a lot of time to coach her. So a lot of her early years were just watching and utilizing her natural talent. She's had a great opportunity to get training from some of the best. My long-time coach Robert Dover helped her when she was just starting her FEI journey, and then our long-time family friend and my current coach Kathy Connelly has been a big inspiration for her. I'm now able to help her a lot more that she's out of school and we're back in the same state. But it goes both ways – she helps me a lot as well."
Pierucci Dressage has evolved into a flourishing business for Pati, and it started naturally for her. "I met my husband in high school and his mother had a great interest to start lessons," Pati mentioned. "From there, we moved to Virginia and built a beautiful facility just south of Lynchburg. That's where the training and sales really started to take form. I traveled to Florida so I could continue my training. Building this together as a family business has always been a dream for me."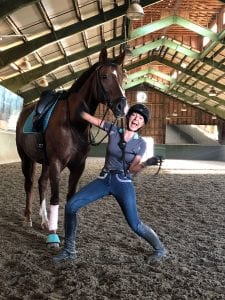 "We had a two-year period in Texas where we were able to – for the first time – really work alongside each other. The great thing is that Hannah has a very good education and has been exposed to many different training  techniques and horses," Pati continued. "There's a similarity in how we ride and teach, but there's also some wonderful differences. I feel like, together, it'll be a really wonderful package because we have eyes on the ground for each other."
As a very accomplished rider, Pati has a resume that's worth mentioning. "I would say, most likely, consistency is partially what got me as far as I have come – plus the fact that I'm still doing it. This is not an easy business, especially one to raise a family in," Pati said. "I would say there isn't just one thing I'm mostly proud of. Being able to go through the selection process in the 2000 Olympic Trials was pretty exceptional. Considering that I was riding a horse that basically came from nowhere in the Trials, it was a very exciting time."
"I've been incredibly blessed by having a long career with a lot of different aspects to it. I love riding and competing, so obviously anything I do there has always been such great joy involved," Pati replied when asked about her career. "It is also amazing to watch my daughter grow into this phenomenal rider."
Pati also holds clinics in Texas twice a month, riding in both Dallas and San Antonio. "I travel throughout Virginia during the rest of the month," she said. "Most of the things I'm doing right now are at the facility that I'm working out of called Chestnut Oaks Stables. It is owned by a wonderful friend, Barbara Wiefelstede. She is also an FEI rider and a large 'R' judge." Pati noted just how much support Barbara provides when it comes to her training business. "One of the main reasons I wanted to come to her farm when moving back to Virginia was the fact that I'd have her eyes and expertise on my side." 

Pierucci Dressage also specializes in sales, and features horses with top-level dressage potential. Currently, Pati is offering a gelding named Istrano, who shows plenty of talent. "What I have for sale right now is a young Dutch Harness Horse gelding, Istrano, purchased for a long time client of mine in Texas. He ended up getting a little bigger than we expected. He has been an incredible delight – he's extremely athletic and the judges adore him. He's done very well through first level and is now ready to show second level. He shows great aptitude for the FEI levels, and I'm excited for whoever gets this guy," Pati said. "Also, we have a beautiful Hanoverian gelding named Limerick. He was bred and is owned by a long-time friend of mine, and I actually showed the dam through first level very successfully back in 2009. It's pretty neat to have the offspring. He is ready to go third level and is incredibly beautiful with a fantastic personality. I don't think there's a limit to what he can do."
For more information on Pierucci Dressage and the horses they have available for sale, visit their website at www.pieruccidressage.com or visit them on Facebook and Instagram at @pieruccidressage.
Daina Behe holds a Master of Science degree in Integrated Marketing Communications from West Virginia University as well as a certificate in User Experience Design, and is well versed in many areas of digital marketing and design. Having been involved in the horse industry for years, she specializes in equine marketing as it brings her passions together. While not working behind a computer, you can find her training her Moriesian horse in the Western Dressage discipline, or teaching riding lessons to young equestrians.