Tim "The Clipper Guy" Gaskell is a force of nature in the equine industry. From winning the $1000 Groom's Class at WEF a few years ago, to becoming a big-time social media influencer, to making a name for himself as a clipping and grooming expert, Tim is well-versed at marketing his skills. Any given day you can find him on his Instagram feed, clipping 10 horses, giving a grooming clinic, hauling horses cross country, or freelance grooming.  Tim is always on the move, but there are a few constants- he's always smiling, he's always working, his horses are always immaculate, and he's always willing to help.
We asked Tim to tell us a little bit about himself and share some of the secrets to his success.  He, as always, did not disappoint:
How did you get started with horses?
Horses have always been a part of my life. My birth was scheduled around my mother's show season in New England, which is why my birthday is in February. She taught lessons, my dad was a farrier and rode the difficult horses, and we baled our own hay. It was amazing being able to grow up with horses.
First of all, I have to know: how in the world do you get all those horses (double digits some days!) clipped?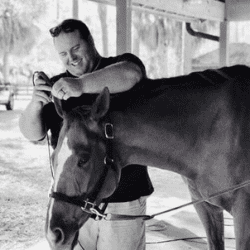 I have now lived in South Florida for just over 6 years. I originally moved here to work at a show barn, but taking what little I knew of clipping, just started clipping on the side for cash. With the help of a few people who hated clipping, they passed along their knowledge and showed me different ways of clipping that I made it into my own art form. I tried all different brands of clippers and blades until I found what made the horses look their best, what was the least scary, and what worked with my hands. I just clipped. I came up with different patterns as far as where I started and ended and I just clipped. Pretty soon I notched a top clip down to an hour and a half and as long as I have a clean, well-mannered horse, I just have tunnel vision and go. I don't mind starting at 6:30 am and sometimes not finish until 11 pm. It's part of the hustle. It's part of the grind. It's part of being successful.
What is the hardest part of your chosen career?
Being away from home. Trying to make a name, a reputation, and make money, while keeping my wife and pets on my mind all of the time and trying to get home and have a day off once or twice per month during peak season.
What is the best part?
The horses. Being able to have the trust of an animal who is a natural fight or flight creature. Being able to connect with them on such a level, that they trust me to do something so unnatural. I feel like I have the two hardest jobs on the planet with horses. Shipping and clipping. To be able to be successful in these two areas is me being able to understand the animal and for them to allow me to be in their life, and that means the world.
What do you think is the biggest hurdle, in general, for equi-preneurs?
Your name. Starting In an industry where your name is your business and cash flow is king, it's hard to start if you don't have one or the other. Luckily for me, I had traveled the circuit for a number of years and really used the circuit as a way to meet people and show off my work. Most of my clients that I started my business with, were people I met at shows that told me they would love for me to work on their horses some day. So when I decided to quit my job and start my business, I had enough local clients to be able to sustain my current salary and lifestyle. But after that, I just started using Facebook and making phone calls and have built a national and international clientele.
What have you found to be the best promotional/marketing tool, and can you offer us any tricks or tips you've learned with it?
To be honest, social media. Google, Instagram, and Facebook have been the reason I was able to break out big time. I have had clients tell me that they stalked my account for 6 months or more to see how consistent I was with my work. They watched my reviews and posts to see how I interacted with horses and clients. Now, I spend about $1,500 per year on social media ads. For every $30 spent, I make on average $1,000, so it has paid off. I have made several live videos doing grooming seminars for the Thoroughbred Owners and Breeders Association, local kids clubs and horse fairs, therapeutic riding centers, and just general grooming tips videos. My best video was shared and seen over 30,000 times on Instagram.
My International clients have told me that they usually get a referral from a local client, then they call the following season to start me in on their program. Sometimes it takes time, but you have to be patient when advertising. I will say though that word of mouth has been the best way I've gained clients, and I now have a brand and a name. It took 3 years to do this, but now I have made my name, and now have a little cash flow, and all I stated with was a set of clippers and $3,000 that I had saved up.
Are there any other unexpected resources that have also been of service?
My last year as a pro groom on the circuit, I won the $1,000 Grooms class during WEF week 10 in Wellington Florida. That win really helped start my name and allowed me to team up with Shapley's. Shapley's makes grooming products for horses and are based just north of me in Fort Myers, Florida. With them I was able to show off my talents with a great product that I can stand behind, and making their product video and making individual product videos on Facebook, really helped me gain a large national and international audience. That audience has been showing my videos to their students and has allowed me to share my knowledge with a lot of people. I receive about 5-8 messages per week asking for advice and tips to help them with their horse which makes all of the work very rewarding.
You're so busy! How do you make time for promotion/ social media/ marketing your brand?
H
ow many hours per week do you devote to that piece?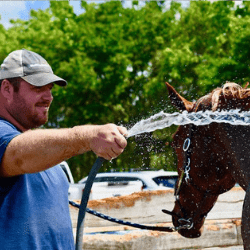 Well, the great thing about Instagram is that it's instant. I will take a picture of a horse, then when I'm waiting on my truck to cool down, I will just share it between barns. Sometimes it's not until the end of the day when I'm laying in bed until I can catch up on sharing my day. The advertising part is pretty easy. Once you set up your account, it goes on autopilot. Your ads are usually generated from a previous post and are instantly approved so long as you don't have hashtags or mention companies in your paragraph. Then you pick the duration, and it automatically generates and you pay them via PayPal. The business cards and fliers I have I just reorder once per year, and that takes minimal set up time. Keeping your website up to date is the most time consuming, but I usually take half of a day per week and focus on that. So I would say on average I spend about 5 hours per week on social media and websites for advertising. Not too bad.
How can equine professionals make themselves a better candidate for sponsorship?
Don't sound desperate. You can always tell when someone is trying too hard to make people look at them. Be loyal. If you like a brand, use their hashtags, follow them, and tag them when you can. Usually, companies will advertise when they are looking for brand ambassadors, and that is a good way to get your foot in the door. When you go to a horse show or equine fair, talk to the distributors there and talk to them about what they are looking for. They want relationships and loyalty so don't be afraid to tell your story. It also never hurts to send a personal message to the company to tell them about yourself. The worse they can say is no. Use yourself. You are your biggest asset.
If you are practicing and competing and doing well in your classes and putting your horses first, most companies will notice you. For me, I asked Shapley's if I could be a part of their team. They never had anyone do that and welcomed me in because I was the first. We have a great relationship. With the other companies I work with, I knew a rep or someone that was a part of that company, and they forwarded my information because they thought I was a good fit for their brand.
What advice would you offer to people who want to be influencers in the equine industry?
Be confident. Be humble. Have humility. I have been very fortunate in my business, but I made things happen. I slept only 4 hours per night just so I can make all of my appointments, I put myself out in the open for everyone to see. Be willing to grind it out day after day for a while. It's going to pay off. Be nice to people. Having positive words and thoughts will make you successful. If you are always negative, nothing good will come your way.
Put the horses first and be able to adapt. Yes, I can clip 50 horses per week, but sometimes I can't. I might only be able to get to 4 horses in a day because some need me to teach them that it will be ok. That will get you more business in the end if you can realize that every horse is different. Realize that you need to adjust to each horse, and not make every horse adjust to you. Once you realize that this game isn't all about you, you will be a successful business person in the equine industry.
What was your goal five years ago? Did you expect to be where you are?
Five years ago I was grooming horses on the circuit. I had no clue where I would end up, but I knew I wanted to do something big. Five years ago, my goal was to be the best possible groom I could be to produce the best looking horses for my boss, and that was my world. I had told someone once that I thought about making a business and it sounded crazy out loud. I have actually tried starting other businesses before, but now looking back with what I know now, it was the wrong time, the wrong market, and I didn't have the name or the money. I have learned so much in such a short amount of time, and I hope other people can learn from my journey.
Where do you see yourself in five more years? What are you most excited about?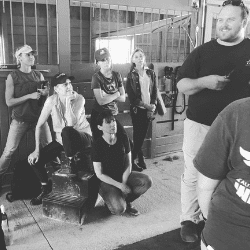 My mind is always working and I have so many ideas. Right now I am actually working on a book that I have started. It is going to be about grooming and being above the social norms of how people think about grooms and grooming. It will introduce a more mental and psychological approach to working on the ground with your horses, and how being a groom to your horse or for someone's horses, is the most important job on the farm or in the barn.
I want to change the mindset of the equine industry or at least help to do so. It is taking a turn to focus more on the horse, but I want to keep pushing it in that direction. I am very pro anti-bullying so anything I can do to help with that I will. I once was able to talk to the Cadet program kids at The World Equestrian Center in Ohio. I told them that being nice to their horse and to other people will make them more successful in the long run. Every person and every horse remembers the bad, so make them know the good and that will be how you are known.
I am working on a concept with a few people to bring better equine services to the Naples area. It's so close to Tampa and West Palm, but is very lacking in high-quality products.
I want to expand my business and allow grooms to come into my business so they can take over some clipping, so I can focus more on other projects and do more grooming seminars. I love the teaching part of this. It absolutely blows my mind that people will come and sit and listen to me talk. I hate listening to myself talk, but the fact that others want to hear me means the world to me. I have a lot to share- I don't want this all for myself. I would love if you came back and asked me this again in 5 years.
Keep up with the adventures of Tim the Clipper Guy through his website, Instagram, and Facebook.
Want help promoting your equine business, or to be featured on the Top Line Media Team Blog?  Contact Us!
Jenn Crow has been a lifelong barn rat, and a hunter/jumper professional for 20 years with a passion for teaching and operations, from lesson programs, to IEA Teams, to shows such as WEF, Harrisburg, and Washington.