About a year ago, a learned about a new line of breeches.  I lived in Texas, and as you can imagine, it's hot- like, spent-all-day-bathed-in-sweat-and-gasping-for-water hot. For those of us riding and working in the barn all day, we are desperately seeking apparel that allows us to be more comfortable. So when I heard about Botori (a play on Born To Ride) breeches at the beginning of the already sweltering summer, and I wanted to try them.  
There were several purported features that were of particular interest to me:
Moisture-wicking, thermo-regulating (again, Texas heat)

Easily brush off dirt and hair (Who doesn't get dirty at the barn?)

Pockets for a phone (I *hate* it poking out of my other breeches when I'm riding
Other compelling features:
Mesh cuffs (so over velcro under tall boots)

High-rise waist with compression (way more comfortable and flattering

Comfort (constantly contorting myself at the barn for one reason or another)

Coverage (not see-through, always a plus)
The Look
I purchased the "Taylor" Riding Pant, in black on black, currently priced at $110. Upon unboxing, I was pleased.  They certainly qualify as riding "tights," in that they are lightweight and more of performance fabric.  I had never worn riding tights before though because they were always too thin, see through, and looked like I should be going to Jazzercise, not the barn. However, the Botori pants were different.  The fabric was similar to my favorite pair of leggings, but they had a look of fairly conventional breeches.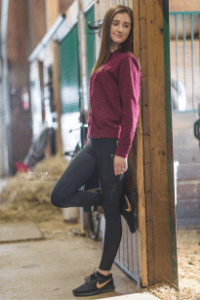 Without boots, they could be mistaken for leggings (and were).  There are colorful options for the knee patch, which would make it harder to miss.  With the black on black, it's barely noticeable. I didn't mind this though- in fact, Botori promotes the fact that you can get away with wearing them outside the barn.  Running errands, exercising, or even to the office. Full disclosure- I've done all of the above and felt comfortable as well as remarkably put-together!
With boots, or in the saddle, I think they look great.  They lay in a very flattering way across your midsection, which meant less adjustments when riding than with conventional breeches.  They are schooling pants- coming only in black and white. However, I did wear them on a Tuesday at a show, for schooling, and received a lot of compliments.  More important than that, to me, was that they were super-functional. Easy to move in, easy access to my phone, easy for my shirt to lay smooth and look nice.   
Does dirt really brush right off?  Yes, it actually does. Either with my hand or a towel.  I do feel like with the slick black material, any dirt really stands out.  However, it's gone in two seconds with a swipe of the hand, so I like that.
The Feel
Because the Botori pants looked similar to leggings, I expected them to be a little bit of a pulling-fest to put on.  On the contrary, these are the easiest pants to put on ever. I feel like I could literally jump into them from a balcony. Which, you never know, might be useful.
They are extremely comfortable to wear. The compression is very light in the waistband.  The greatest benefit is more in the cut of the waistband and its width.  It's smoothes everything out. Also, no need for a belt.  I'm typically a traditionalist and would insist on wearing one.  However, when you are wearing the typical sun shirt or t-shirt, and you're battling heat, it's really nice to not deal with being cinched at the waist.  
I actually could go for more compression, like leggings, in both the waist and the legs.  Maybe that will be an option in the future. But as is, they were really nice to wear. I stayed much cooler than I do in my other pants, and bending down to wrap legs was an easy thing to do.  And it's nice to be able to use them for multiple purposes, like working out. The mesh cuffs were also a big upgrade, as far as comfort and ventilation, under tall boots.
The mesh pockets were very useful- they could hold anything, but generally, they just had my phone in them. That was my favorite part.  Personally, I really need my phone to be reachable all the time in the barn, and when riding. Either to be able to answer questions, adjust the schedule, take photos, or listen to music. So having an easy place to keep it is truly a blessing. The mesh of the pockets is supposed to make it possible to see and check the face phone when riding, without taking it out of your pocket.  Maybe I just don't have my stirrups at the proper angle, but I couldn't reasonably see it from the saddle, without leaning way over. I had to take it out. However, that's still easier than any alternative option.
The Result of a Year's Use
The pants themselves held up really well.  No problems and I put them through a lot throughout the year.  I even wore them in the winter with long underwear, just because they are so comfy.
My only complaint would be that they have started to not stay up as well- I find myself tugging them up a lot, which is annoying.  However, I'm slightly smaller than I was when I purchased them, so maybe that is the reason. Also, the mesh pockets look really rough at this point.  Although the mesh was virtually invisible against the pants at first, it's now sort of greyish and worn-out looking, with some holes. They are still useful, but it's somewhat disappointing. The mesh may need improvements.
The Verdict
To me, these are a winner as schooling breeches and general barn-work pants. I'd size down, for sure.  To their credit, the website does recommend sizing down if you are between sizes.  I might go so far as to recommend going one size down regardless. I'm willing to forgive the pockets given how many other great features there are.  
I will absolutely buy another pair of Botori breeches because they are easily the most comfortable pants I own and I truly enjoy wearing them, whether I'm in the barn or not.
Let us at Top Line Media Team know about products we should review next!
Many thanks to Top Line's own Jordan Even and Copper Arrow Photography for the photos, not just an excellent model but a prolific blogger. Check out her blog here!
Jenn Crow has been a lifelong barn rat, and a hunter/jumper professional for 20 years with a passion for teaching and operations, from lesson programs to IEA Teams, to shows such as WEF, Harrisburg, and Washington.