Truth be told, I resisted buying these for a while. They are, by and large, some of the most expensive polo wraps readily available. I've tried them all though, and eventually, decided that I had to know if these Equifit T-Sport Wraps were worth the $94 price.  I've now owned them for over a year, with regular use, so I'm ready to render an official review: they are fantastic, and I would buy them again.
Analysis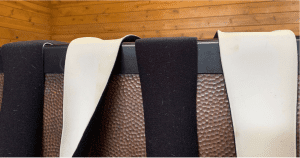 The most important factor, in my mind, is wrapability.  I need to feel like I can wrap accurately and properly with ease, and have the lowest likelihood of causing damage to my horse's legs.  Also for a high wrapability score, I have to feel like a less experienced horseperson could learn to wrap well with these without a lot of struggle. Then I want to know that they are comfortable for my horse, look good, are easy to care for and will last.
I like the Equifit wraps better than regular polos because they offer better compression and support, and also I think they are easier to apply with consistent pressure- which is crucial for horse safety.  They don't stretch as much or hold as much heat as a conventional polo. My very fancy method (and hilariously amusing for my barn mates) for assessing comfort was to wrap my own legs and then do some calisthenics, since the horses were being frustratingly tight-lipped on the topic. I've used several types polos, and below, a chart of my personal opinions on them, with 5 being the best score and 1 being the worst.
Comparison
I've compared to conventional polos as well as high-tech options.
Conventional polos lose their integrity (and stretch) quickly and offer minimal support.  Others that seemed like they'd be awesome at first. But then I found that they are a little complicated for some people to wrap properly. Also, they really don't last well after even one wash, and the velcro seem to wear out super fast.
I got really excited to order yet another competitor, having had great experiences with their products.  But the material made it really hard to wrap well because they were slightly stretchier, and slightly longer, and have slightly more width than a conventional wrap.  So they end up being really hard to get consistent pressure. And that, to me, is a deal-breaker.
Minor Issues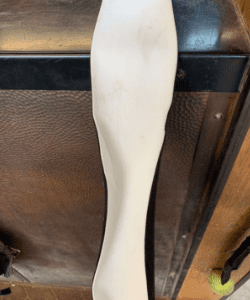 Reviews online are mostly positive, though some people don't like that the foam doesn't stay perfectly white, or say they are hard to clean. Personally, I haven't had that problem. Full disclosure: I actually don't follow directions.  I wash them in the washing machine (cold cycle), and then lay them out to dry.  They have, thus far, stayed clean enough for my standards. You can see in the photos that they are not perfect, but they look clean when on the horse. Most important, none of this wear and tear affects the wrapabilty.  If you pull them through a pile of shavings they will for sure be a pain to clean. But if you put them on while your horse is out of the stall, ride, and take them off, you're golden.
Details
The wraps come in black and white and have two layers. The outer layer in the selected color. The inner layer is a rubbery-feeling liner, actually a non-latex foam, that is always white.  The outer layer is a rougher material to which the velcro sticks without any additional strip on the wrap itself.
Equifit's website describes the wrap as follows:  "State-of-the-art T-Sport Wrap provides cool comfort, maximum compression and slip-free support for your at-risk horse's legs. A unique combination of open-celled, non-latex foam and high-quality fabrics first developed for certified athletic trainers, physical therapists and sports Doctors. Simply rinse product in warm water after use and lay flat, foam side up, to dry."
Worth it?
The most important thing to me is avoiding injury and discomfort for my horse.  That means having wraps that can be applied properly, consistently, and maintain integrity. Therefore, the Equifit T-wraps (available here), for me, are worth the price.
Interested in having your product reviewed?  Contact us!
Jenn Crow has been a lifelong barn rat, and a hunter/jumper professional for 20 years with a passion for teaching and operations, from lesson programs, to IEA Teams, to shows such as WEF, Harrisburg, and Washington.