I love SSG gloves. They're a leading brand in the equestrian world, and growing up in the racing industry, my parents always wore SSG's while training horses. One of my first pair was a yellow and black set of mesh riding gloves (hey it was the late 1980's and everything was neon yellow) and I loved them. Like, really LOVED them. I wore them daily.
Fast forward to now, and I'm still stuck on the brand. I wear them during my rides in the dressage ring, for mucking stalls, for walking down the driveway to get my mail. You get the point. Something about that little horse logo on the top of my hand makes me smile and makes me think of my childhood.
When the SSG 10 Below gloves came out, I knew I had to try them. First of all, if it's 10 below zero outside, I'm not going to be spending a full day outside in the barn and I'm *probably* not going to be riding. My horse would divorce me. Anyway, the gloves are touted to be waterproof, and are constructed of polar fleece so they aren't itchy.
I have to be honest, I'm on year two of wearing these gloves at the time of writing this article. Last year in the Northeast, we had piles of snow, and the gloves held up wonderfully. I remember having a stroke of genius on New Year's Day 2018, when it was 19 degrees here, and decided to lunge my horse in the round pen whilst keeping his winter blanket on (I have photo proof of the annoyed look on his face). I think I worked harder than my horse trying to keep him going, and I remember thinking that my hands were relatively warm in that weather. Score one for SSG!
Fast forward to winter #2, where it's been a mild 40 – 50 degrees every day. The waterproof effect of the gloves have completely worn off and they get rather soggy; however, my hands are still pretty warm. Granted, 50 degrees above freezing is a big difference from 10 below, but who's keeping track? The gloves are still completely intact and I haven't washed them once (ew). The yearling filly in the barn loves to chew the fingers (while the gloves are still on my hands, of course).
Overall, I'd recommend the gloves if you're looking for something to keep your hands warm and still allows you to ride and do barn chores. They aren't bulky and they are very comfortable to wear. I don't know if the gloves would actually keep your hands warm if it were 10 below outside, but again, who in their right mind is hanging outside all day in that type of weather if you can help it?
You can read more about the gloves on the manufacturer's website here: https://www.ssgridinggloves.com/products/64004/6400-10-below-6-black
Interested in having your product reviewed? Contact us!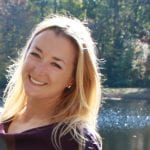 Daina Behe holds a Master of Science degree in Integrated Marketing Communications from West Virginia University as well as a certificate in User Experience Design, and is well versed in many areas of digital marketing and design. Having been involved in the horse industry for years, she specializes in equine marketing as it brings her passions together. While not working behind a computer, you can find her training her Moriesian horse in the Western Dressage discipline, or teaching riding lessons to young equestrians.