Kirsten Willey has established herself as a top notch horsewoman on the eastern shore of Maryland and beyond, and she is well versed in high school dressage, driving, vaulting and more. Not only does she ride and drive, she also teaches lessons, starts young horses, has a growing farrier business, is a fine artist and – above all – is a mom to her young son, Dakota.
Horses are in her blood. She has been directly involved in the horse industry since a very young age, and her parents bought her a horse when she was 10 years old. It didn't take long for Kirsten's entrepreneurial spirit to kick in, and at age 11, she began teaching riding lessons to her friends for $5 an hour and never looked back.
Kirsten traveled quite a bit during the early years of her career in the horse world, and one of the earliest skills she picked up was that of farrier work. "I started in farrier work when I was about 15 years old," she mentioned. "My father had learned to trim our horses to save money. He didn't do a bad job, but he wasn't a horse person or a farrier. Eventually, it became harder and harder to get him to come out to do it, so I would chip away one hoof at a time. I started trimming for other people when I was 18."
Her career as a farrier expanded when she went to work in Florida for a Friesian dressage and driving stable at age 22. "The farrier there was named Andy Gumpert, he is a certified journeyman farrier and one of the best teachers I know," Kirsten reminisced. "Over the course of two years, he refined my trimming, taught me the importance of hoof and leg anatomy, and showed me how to shoe. He is still my go-to mentor for any questions I have."
Small in stature, Kirsten was unsure about the possibility of a career as a farrier; however, she pushed her doubts aside and now has an admirable client book. "I never thought that I could physically be a farrier, being a 'tiny girl', so it was never something I had really tried to pursue. However, Andy gave me a thirst for knowledge in this medium and I couldn't imagine stopping now. I love helping horses and their owners," Kirsten said.
Another large aspect of her business focuses on training horses of all levels and disciplines. "From dressage, starting babies and driving to trick training, problem solving and trail riding, we do it all," Kirsten mentioned. "I love every horse that comes in and different the challenges we have to overcome. Currently, we have three training horses – a Gypsy Vanner who is in training for riding and driving, a Section D Welsh Cob who is here for trail riding and trick training and a ¾ percheron yearling who is here to learn to be a good citizen."
Kirsten also teaches all levels of equestrians, and is an encouraging instructor no matter the discipline. She works alongside her significant other, John Moore. "We teach horsemanship in all our lessons first and foremost, whether you come to learn dressage or jumping, the relationship you have with your horse and the way you communicate with him is most important," she said. "The discipline you choose does not matter so much after that. It's hard to say that we teach specifically English or Western. We do also provide lessons in equestrian vaulting (gymnastics on horseback) and trick riding, which is always a lot of fun and a great way for anyone to gain confidence and balance on horseback."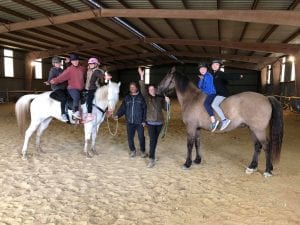 Running a family business has been successful for Kirsten and John. "John and I have been together for five years now," Kirsten said. "He has worked at Frontier town in Ocean City, MD as a native dancer and entertainer with his horses since he was a kid. He has performed in circuses and rodeos around the world. His latest adventure has been T.V., where his horse Cochise was recently featured on this season's series of "The Walking Dead" as the horse who 'almost' killed Rick Grimes! John also got his SAG card last year by performing as an 'Indian Scout' on a Dolly Parton Netflix film called J.J. Sneed that will be released this winter."
"John is the only person I could imagine living and working with 24/7," Kirsten continued. "He encourages me with all my eccentric ideas, even when that idea is getting another horse. He's a keeper."
Since Kirsten's business is continually growing, we inquired about the types of advertising she relies on, and Facebook was the answer. "For advertising, I typically use Facebook, but word of mouth is how I get most of my work. I also have a website, www.kirsten-willey.com where people can find more information about what I do," she mentioned. There are also images of her fine art projects on the site, which range from paintings to wood carvings – all horse related.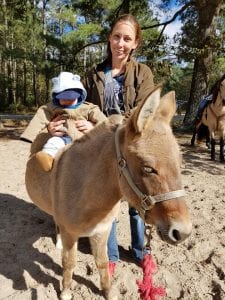 The most important aspect of Kirsten's life is hers and John's son, Dakota, as he's her sidekick when she is working with horses on a daily basis. "My favorite part of being a mom… that's a hard question to give one answer to," she commented. "I love all of it, and I don't mean to be corny. Maybe not the poopy diapers, especially when they explode all over the car seat in the middle of a long day. But that's not so bad when you're used to finding maggots in thrush infected hooves! I think specifically, it's watching him learn and grow. I love making him happy and showing him the world. The smile he gets and the sound of his laugh can make any gray day a sunny one!"
To reach out to Kirsten in regard to lessons, training, farrier work and art, you can find her on Facebook, visit her website or call/text (443)-523-7582.
Daina Behe holds a Master of Science degree in Integrated Marketing Communications from West Virginia University as well as a certificate in User Experience Design, and is well versed in many areas of digital marketing and design. Having been involved in the horse industry for years, she specializes in equine marketing as it brings her passions together. While not working behind a computer, you can find her training her Moriesian horse in the Western Dressage discipline, or teaching riding lessons to young equestrians.