There's a horse we somewhat consider a rescue in our barn; she came to us as a hot-headed mare who was used to run barrels at upper levels. Her backstory includes top-notch breeding with lines showing gaited horses, and she was initially trained as a competitive driving horse. She was passed along from owner to owner, with the phrase "I just can't make a connection with her" heard over and over again.
Needless to say, we like a good challenge. After a one-line sale ad was brought to my attention on Facebook (no photo, just 'registered palomino Morgan mare available'), I contacted the owner and went out to see her. I played the 'no fear' card (I can hide my apprehension well… ha!) and hopped on her using the owner's kid's saddle – nope, I'm not kid-sized – and a bridle that didn't fit the horse. She was hot, but underneath that big show she put on, I could feel she had talent. We ended up picking her up for cheap, considering her bloodlines, and started working on getting her healthy. She had been untouched for a year, as the last set of owners were afraid of her – and understandably so.
In our training program, we understand that horses' hormones and their pain levels have a major effect on their attitude. Hot horses are usually hurting somewhere or have some internal 'messiness', for lack of a better term, going on. The first thing we did was change her feed and added supplements. Our go-to location for herbal supplements is this fantastic Tennessee-based company we found thanks to Google, called Equine Science. Their website can be found at www.herbs4horses.com. All of our horses are on at least one product from this company, but our new mare needed something to take the edge off. Enter "Extra Calm". Sounds like a dream, right? It is.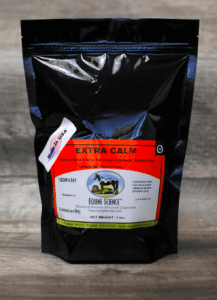 The mixture, which sounds like the back of a Yogi tea box, includes valerian root, chamomile, passion flower, peppermint, yam, raspberry leaf, milk thistle, ashwagandha, and ginger. When you open the bag, it smells like the inside of any organic shop you've ever been to, and it's very relaxing to take a deep breath and enjoy the herbal scent. The horses absolutely love it – it's served up in a pelleted form with their grain – just one scoop will make a major difference. All of the ingredients above work on balancing hormones and supporting the liver, which, in turn, make for a happy horse. The cost of the product is absolutely worth it, especially when you compare the pricing of the individual ingredients online. A 3 lb. bag is $54.50, and 5 and 10 lb. bags are also available. By feeding only 1 scoop a day, the bag lasts quite a while.
We noticed an immediate effect on the mare. She walked out to the riding ring calm and collected, and we were able to ride her with loose reins and a snaffle bit. That was a major accomplishment, considering she ran barrels with a curb bit and a hackamore combination back in her hay day. Our first real test will be coming up this weekend, we will be riding her in a basic level western dressage show… trying to go as slow as we can go!
You can view and purchase the product here: Herbs4Horses.com Extra Calm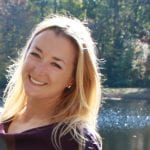 Daina Behe holds a Master of Science degree in Integrated Marketing Communications from West Virginia University as well as a certificate in User Experience Design, and is well versed in many areas of digital marketing and design. Having been involved in the horse industry for years, she specializes in equine marketing as it brings her passions together. While not working behind a computer, you can find her training her Moriesian horse in the Western Dressage discipline, or teaching riding lessons to young equestrians.