Equestrian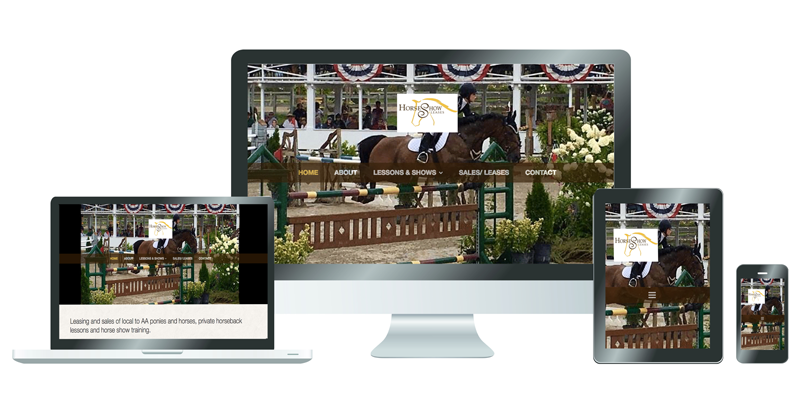 Top Line Media Team is a company that specializes in supporting the online needs of the equestrian business. If you need help with social media or digital marketing, website support, enews – we can help. We know how the online game, how to attract and keep viewers both organically and with paid ads. We keep your audience engaged with beautiful imagery and interesting content as well as connect it all back to your website.
THE PROBLEM: Horse Show Leases was looking for a company that did equestrian marketing to oversee their website and marketing materials. They wanted to be hands off of the marketing but only with a company that understood the Equine business. They needed an up-to-date website, a way to accept payments online and social media management.
THE SOLUTION: We created a responsive, mobile-friendly equestrian website with up-to-date code, that was visually appealing. The images allow Horse Show Leases to showcase their horses that are for lease or sale. We built a payment gateway so they were able to accept payments online for camps and lessons. Using their brand, we set up and oversaw their online marketing with a monthly newsletter (Constant Contact) and Social Media (Facebook, and YouTube) as well as other site indexes such as Google, Bing, and Yelp. We also oversee website maintenance.Top Line Media Team has a long history within the equine industry, we understand the language, know which images will show the horses at their best. That experience combined with the know-how of digital marketing has helped increase their outreach and gain a strong email database.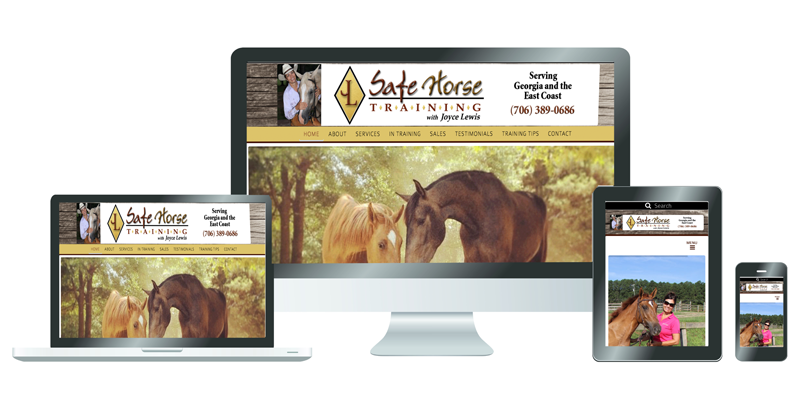 THE PROBLEM: Safe Horse Training was also looking for an equation marketing company that could redo their website to a mobile-friendly site, add online payments and create online marketing by telling their story while enforcing their brand. We were referred to Safe Horse Training from Horse Show Leases.
THE SOLUTION: We gave their website a make-over so it was responsive, SEO friendly with an event page and blog. For online marketing, we built a social media platform to jump from (Facebook, Instagram, YouTube and Pinterest), and built engaging newsletters (Constant Contact and landing pages). These new features to her website and online marketing boosted online presence and increased her email database. Additionally, we created a payment gateway so she could collect online payments for her clinics and events.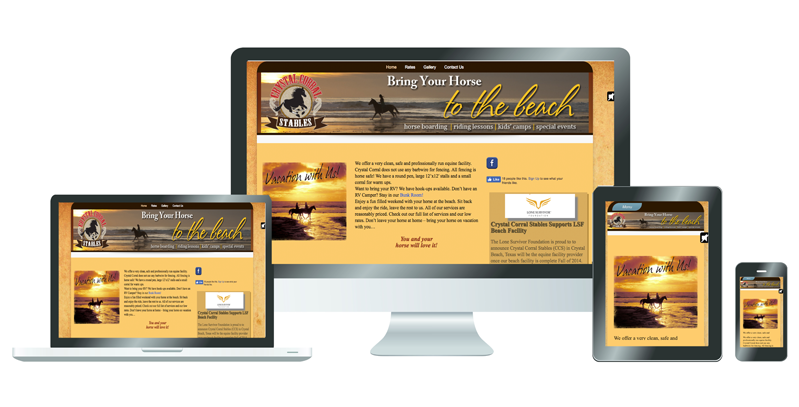 THE PROBLEM: Crystal Stables needed a brand with a new website. They wanted to showcase their vacation beach stables, photos, web cam and needed an online payment system.
THE SOLUTION: We created the website to allow them to showcase their stables on the beach with a gallery of their photos and services. We created a logo as well as the homepage banner for their brand. They also wanted to have music on their site with web cam's so users could get a "real" feel of their stables.
---